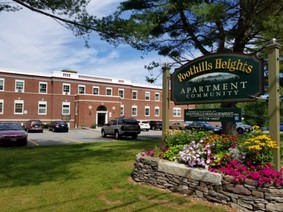 Foothills Heights
276 Fairbanks Rd Farmington
35 Newly renovated Units including Studio, 1, 2, & 3 Bedroom apartments with a Security entrance. Just a mile from town in a quiet residential area.
FOOTHILLS OFFICE HOURS: Monday-Friday 9am-3pm
Apartments, Retail & Professional Properties
Welcome to Foothills Management, "Your Key to Good Housing" for apartment rentals in Farmington, Maine. Offering Franklin County Maine apartments, we are one of the largest western Maine property management companies. Our new office is at 141 High Street, Farmington, ME.
Foothills rents over 200 apartments in the downtown Farmington area. We provide UMF apartment rentals with many of those rentals near UMF. We also rent retail and professional spaces to Farmington businesses.
Explore our site and see our Farmington apartments and commercial spaces offering a variety of sizes, prices, and locations. We have large two and three bedroom loft apartments in the downtown area and apartment buildings close to campus with efficiency apartments and studios, one, two, three, and four bedroom apartments.
Our Farmington apartment rentals include heat, hot water, wireless internet service, off street parking, laundry facilities in most buildings, trash removal, and snow removal. Pets are allowed with some restrictions. Most buildings are in downtown Farmington, within one to three blocks of the University. All buildings and apartments have been tested for lead paint with no significant findings. Reports are available at our High Street office. Now accepting Credit Cards
*exclusions do apply.
We look forward to meeting you, and meeting your housing needs.